Sangre Cavallum - Troadouro Retrospectiva 1997- 2007 [Folcastro/Ahnstern - 2008]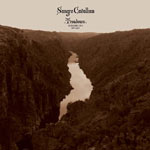 This double disk set takes in rare, early works and compilation material from this Portuguese project who mix up there own distinctive brew of neo folk, world music, with prog and metallic edges, theatricals and field recordings- all played with a wide and exotic mix of Portuguese folk instruments as well as your standard guitar, bass and synths, etc.

Each disk clocks in just shy of the 70 minute mark and is packed in an attractive fold out digit-pak with beautiful black and white landscape pictures from the bands native country with the only disappoint been that there's no booklet with the packaging, detailing the bands history, early photos ect- which really this kind of thing needs to have. A good half of the first disk is filled with their first tape album material which though a little sonically naive and amateurish in places has a handful of rewarding and memorable tracks, these tracks are also more simplistic in structure and instrumental layers than there later work and remain vocal-less for the most part, been more folk and world based than anything- certainly of interest to anyone's who's picked up the other two albums they've had out on Ahnstern. The rest of the first disk is made up of unreleased work and rehearsals, these as expected show growth and development with-in their sound and again there are some highlights along the way too.

The real sonic gold here is to be found on the second disk and shows the band presenting some of their greatest and most consistent work that is as good as their released two albums works. The tracks on the second disk are from compilations, unreleased work and rehearsals- but the quality of all of the tracks here seems so much higher than the first disk. Take Luadas with it's magical,mournful yet tuneful accordion, horn, flute march that finishers off with doomy bass led indie rock groove mixing in bagpipe and backwards vocals. Or Brenha with its folk/ rock jigging groove mixing together heavy bass tones, flute and various stringed instruments. Or Tall Cheie,Tal Soldado setting a great creepy tone with snaking prog guitar work, church organ pump, shimmering sinister groove whispered to operatic vocals, with the odd of metal edges as the track progresses. It bizarrely jumps into a merry sunny jig as the track exists. Really it's worth pick-up for the second disk alone.

So in summing up an double disk set retrospective that does what you'd expect for the first disk offering up some old and rare tracks with the odd jewel among them. Then a near faultless second disk featuring some of the bands highpoints that have no been readily available. One of course for fans of the band and the Ahnstern label with the second disk been a great primmer/ introduction to Sangre Cavallum.






Roger Batty