Aidan Baker and Beta Cloud - An Open Letter to Franz Kafka [Laughing Bride Media - 2007]Each of the four tracks presented here are named after letters Kafka wrote to his Father, his sister Ottla and two women in his life, Felice and Milena. I will not pretend to be a kafka scholar, as I've only read some of his letters to his father, along with his other classics, the Metamorphosis (and other stories) and the Castle. I don't intend to expound greatly upon my impressions of his literature, mostly because I don't feel that I'm necessarily qualified, as I'm no critic or expert on the written word. I'm simply a casual, sometimes avid reader. But it would be negligent of me not to at least attempt to tie together the work of Kafka to the music presented on this album. As I said, I've only read some of Kafka's letters to his Father (Brief An Den Vater), and, though they at times refer to commonplace, ordinary things, they drift into almost surreal passages. It makes one wonder if Kafka viewed the world differently, as if his stories which seem so fantastic or symbolic may have been more real to him than we know. His letters are also invested with tension at times, and the fact that Kafka had a severe aversion to social interaction and a generally depressive nature is fairly pervasive.The fact that An Open Letter to Franz Kafka is named for his letters may be telling. The idea may be to represent Kafka, the man, in sounds rather than Kafka's works. And as anyone who has read anything about Kafka will tell you, Kafka as a person is shrouded in as much mystery as his works of fiction. He could be alternately humorous (albeit darkly) and depressed, starkly realistic and detached, and profound, despite his reticence toward philosophers. In other words, Kafka is an extraordinarily ambiguous figure.So it's fitting that these pieces are invested by a swirling tension, wrapped in a cloud of unreality. The foreground music is quite focused, and often melodic to an extent, yet there is an array of sounds in the background, which are difficult to identify. These background sounds are indeed cloud-like, if you'll pardon the pun. They've become a hallmark of Beta Cloud's recordings, and they add a degree of mystery to each of his releases thus far. An Open Letter... is a collaborative effort, with Aidan Baker performing on flute, not something for which he is usually known, though he is in fact classically trained in the instrument. Baker is most widely known for his doom/noise duo Nadja, and for his prolific solo release schedule, which often falls into the latter vein. Baker has experimented with ambient and drone music with a somewhat lighter touch from time to time, however.Having said all of that, and of course meaning no disrespect to the talented Mr. Baker, this album seems to be mostly Beta Cloud's show. Beta Cloud is the pseudonym of Carl T. Pace, and here he has expanded upon some of the ideas presented in the last Beta Cloud album, the excellent Nephology. Here, he adds not only Baker's flute into the mix, but also adds his own trumpet sounds, to accompany his analog synths, prepared guitars, noise and sampling effects.His methodology of including lo-fi noise peaks and heavily distorted effects within the framework of semi or fully composed music continues to change from album to album, and has become more refined. An Open Letter to Franz Kafka is intended to be listened to as one long piece of music, though it is split up into four mostly long tracks. It begins with brooding ambient music which comes across a bit like Brian Eno in a bad mood, with the addition of the background permutations of foggy, subtle noise. The middle of the recording gets intense and noisy for quite a few minutes, with what I believe to be Carl Pace's prepared guitar contributions coming to the fore. The album ends on a somewhat sombre note, which seems suitable after the angry interlude. The truly special parts of the album are related to the way the flute and trumpet are integrated into these pieces. It's not a simple task to introduce traditional instrumentation into such an alien soundworld, yet it's accomplished here seamlessly and organically. An Open Letter to Franz Kafka is a triumph for all involved.






Erwin Michelfelder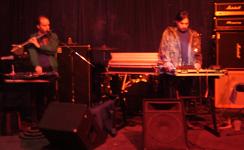 Aidan Baker and Beta Cloud - An O...
Each of the four tracks presented here are named after letters Kafka wrote to his Father, his sister Ottla and two women in his life, Felice and Milena. I wi...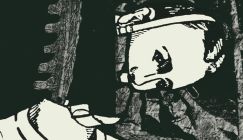 Hastings of Malawi - Deliriously ...
Formed in the early 1980s, after the member's sonic dabbling's on the early Nurse With Wound records, Hastings Of Malawi took a decidedly busy and deta...