Snöleoparden - n/t [Rump Recordings - 2008]Named after a rare and threatened animal, the musical project Snöleoparden shares a uniqueness with its counterpart among the animals. The sound is free and very organic, using selfmade instruments, some effect pedals and a reel-to-reel taperecorder. Even though there's aspects of 'indietronica', this is the first non-electronic release by the Rump imprint. By its organic nature there's also connection the freefolk that dominated the alternative musicscene for some time now as well as a certain sense of innocence. This is stressed by the inclusion of the childrens songs, sang by a small class. Hodja Fra Port, recorded with the instruments available on location. It sounds exactly like it, an ad hoc recording where the enthusiasm of the kids does have a charm, but it's nothing compared to Dreng. A small Asiatic kid sings a song, accompanied by guitars and through this endearing kid Jonas Stampe's Pakistani roots resound the strongest.The music is made almost entirely with acoustic means, save a few effects. Some flute, some organ, but often percussion instruments like baliphone, xylophone, jumped at, by him and his musical guests, with childlike abandon. Like in the aptly titled Xylofon, which sounds a bit funny because of the cartoonesque speed of it. More mysterious sounding are the psychedelic piece Water Puppet Theatre and the tribal Snabel E. Dreamy glockenspiel sounds remind a bit of Pram in Den Evige, although more direct, less thought out. The album continues in a more percussive fashion with Lillecykel, which has a bit of a tabla feel to it. There is a rhythm, but the patterns serve more as density and texture. In Trance the title says it all, a drum rhythm taking us to the American planes at night to witness some native American ritual. Very minimal compared to the following tune called UFO, where the sky breaks open for bright guitar and sounds that, indeed, resemble that of UFO's (or what we generally like to believe what those things sound like). The album finishes on a happy note with Grieg.The 45 minutes make for an interesting ride in the mind of Stampe, who is creative and manages to keep the child in himself alive (in a very valuable way, as Derek Smalls once put it, describing his bandmembers David St. Hubbins and Nigel Tufnel). The sound is quite original, not unlike the Finnish freakfolk artists, but you can also find aspects of Sun City Girls. Although as disarmingly direct and creative, Snöleoparden is way more uplifting and positive.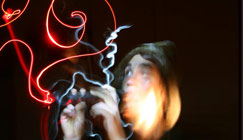 Snöleoparden - n/t
Named after a rare and threatened animal, the musical project Snöleoparden shares a uniqueness with its counterpart among the animals.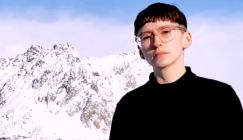 Tine Surel Lange - A Great Ear F...
One of the more creative and distinctive sound-art/ manipulated field records to appear in recent times was this year's Works For Listening 1-10. Relea...