Velvet Acid Christ - Twisted Thought Generator [Metropolis Records - 2000]Velvet Acid Christ's emphasis has always been on the "Acid" part. This one-man project of Bryan Erickson revolves around heavily drug-influenced electronic music. Often taken shape as twisted, danceable techno music, glorifying drug use. However after Erickson suffered from a massive depression, caused by his drug habit, this record sees a change in his approach. The dark brooding atmosphere is taken to new highs, and instead of glorifying drug use, Erickson now shows us the downside of drug-use, taking us on a musical bad trip.This album was written to scare the living daylights out of you. And my god, it succeeded! Everything on this albums breaths darkness; it broods and twists in it. It drags you in and then suffocates you with it. The twisted vocals, samples of serial killers & movies (The Devils Advocate among others), dark brooding beats and slow "wave" parts all work together to create something that is truly unholy. Erickson truly succeeded in given shape to the demons that haunt him, capturing clinical depression or a bad trip perfectly.With this album he comes close to one of his major influences; Skinny Puppy. But Erickson takes it far beyond anything Skinny Puppy has done in terms of darkness. In fact I find it hard to put into words how disgustingly filthy this album is. Yet you can also still clearly hear that Velvet Acid Christ's past is routed in more trance-like songs. His true genius can be found in the fact that all the songs are so catchy and danceable. Don't expect minimalist experimentation or industrial noises without direction. No, these are real, very pleasing to the ear, songs! He proves that dance music can actually be deep, dark and emotional. He actually pushes the boundaries far beyond anything I have ever heard in my many years as a music/metal fan. Nothing in my Doom-metal past (or present), except maybe Zaraza, could prepare me for this!The fact that this is techno music actually adds to the dark and brooding atmosphere. It lacks any organic or human touch. The electronic sounds make it less personal, less comfy and more clinical. It moves the music away from any happy human emotions, and draws it closer towards depression, apathy and hate. The music has a certain apathy about human life. A lack of respect for it you would for example find in a serial killer. I think if I narrow it down this album offers you 3 distinct faces gift wrapped into enjoyable techno; first if offers you the chance to join Erickson during a bad trip and go bezerk with him, to wake up in a blind panic bathing in sweat. Secondly it offers you a downward helter-skelter ride into the realm clinical depression. And thirdly it allows you to experience the world from the viewpoint of a serial killer devoid of any regard for human life. Sick, sick stuff! Highly recommended for everybody who enjoys a good scare! It is less trance-like then his previous work but older fans also won't be disappointed.






Aldo Quispel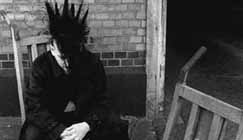 Velvet Acid Christ - Twisted Thou...
Velvet Acid Christ's emphasis has always been on the "Acid" part. This one-man project of Bryan Erickson revolves around heavily drug-influenced electronic m...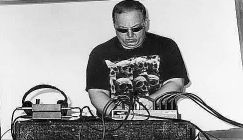 Schloss Tegal - Back To The Dark...
Existing since the late 1980's Schloss Tegal is an incredibly important and influential project, within both the dark ambient and industrial scenes. It...