Funkstörung - Vice Versa [K7 Records - 2001]Following the success of Aphex Twin, abstract techno is becoming more and more popular. The Rosenheim based producer duo Funkstörung have settled in this musical corner too. "Vice Versa" is their latest effort, a compilation with remixes. Funkstörung, consisting of Michael Fakesch and Chris De Luca, has been around for a while, but haven't been producing this kind of music during their whole career. They started as a minimal techno group, quickly changing to electro / IDM. The double act released a number of records, including their previous remix compilation "Additional Productions" and the very own debut album "Appetite For Destruction". What makes this band more special than other groups in this field is that they dare to remix different kinds of musical styles, including pop, hip hop, drum 'n bass, jazz and a lot more. Well-known examples are the Wu-Tang Clan "Reunited" and Björk's "All Is Full Of Love". On top of that, the remixes differ a lot from the original tracks, and that is something we do not see (or hear) often in this genre. Funkstörung takes only a couple of tones from the original work and gives it a totally weird twist, providing the group with an own sound.Of course Funkstörung would perfectly fit on the Warp label, and they only confirm that by remixing the track "Even" by Plaid, settled at the previous mentioned label. The song opens the album, before we are treated with drum 'n bass track performed by Jay Jay Johanson & Funkstörung themselves. The remake of "Solid Ether" by Nils Petter Molvaer pretty much sounds like a jazz song combined with trip hop. A relaxing moody track, with nice strings and trumpet. "Humanity" by A Guy Called Gerald is more or less drum 'n bass influenced, but the touching female vocals of Louise Rhodes make it a diverse listening. Speedy J's "Something For Your Mind" is something entirely dissimilar. Supporters of the gabber genre might know the infamous Dutch DJ, also known as Jochen Paap, from his hard techno (but also experimental ambient) works. The rewritten track by Funkstörung takes the catchy chorus and puts it under strange, abnormal and constantly changing break beats and noisy sounds, producing a very fascinating piece of music. The French synthesizer virtuoso Jean Michel Jarre neither hasn't escaped from Funkstörung; the result "C'est La Vie" is very far away from the original, and once more proving Fakesch's and De Luca's talent.It is obvious that the band, label and design artists have put a lot of effort into the packaging of "Vice Versa". A carton sleeve with a glossy band around it, with the CD in another carton sleeve, and including a futuristic looking poster containing some album information. It's not very informative or handy, but it looks very nice. Artists who consider the artwork and packaging to be equally important to the music always make an impression on me, and Funkstörung is one of them. Just check out their amazing internet site.Just as other musical styles that started in the underground and became slowly popular, abstract techno (or ambient techno, however you want to call it) suffers from lack of originality and innovation with some of the newer bands. But Funkstörung is certainly not one of them. Even though most of the tracks have been released before on singles, this remix compilation should unquestionably end up on the wish list of electronic music lovers.Brilliant!






Justin Faase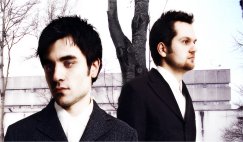 Funkstörung - Vice Versa
Following the success of Aphex Twin, abstract techno is becoming more and more popular. The Rosenheim based producer duo Funkstörung have settled in this mus...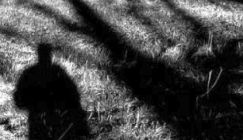 TenHornedBeast - Into The Deep & ...
Forming in the early 2000's TenHornedBeast is a British project that creates a rather distinctive blend of black ambience, doom, dark soundtracking ele...