BiographyIt's not always easy to make it in Japanese music when you're not from Tokyo. However, there are a few exceptions. In rock, the famous Kansai scene is one of them (Boredoms). In hiphop, it is Tha Blue Herb. When O.N.O (producer) and Ill-Bosstino (MC) got together in 1997, the outcome was far from obvious. After all, they are coming from Sapporo, far away up north, on the Hokkaido island and have always been willing to remain their own master. Underground, but professional... This 'no compromise' attitude could have become a problem but it proved to be one of their main asset. Shock Shine No Ran was the first Tha Blue Herb single and released in 1997 on their own label, Tha Blue Herb Recordings. 1998 saw the release of their first album, Stilling, Still Dreaming. Slowly, a little buzz started to surround the act. It only grew bigger in 1999, as they played their first gig in Tokyo (later released on the Live @ Core video) and Boss got asked to rap on Japanese legend DJ Krush new project, Ryu (Krush + Sak + Hide). It's in 2000 that O.N.O and Boss were brought to the world's attention for the first time as their Pen To Chie Ni Wa track was included by DJ Krush on his hit mix-CD Code 4109. The next year, Boss was once again invited by DJ Krush. This time, he was asked to sing on Candle Chant, the best song on Krush's Zen album. By 2002, after four years of singles, it was high time for a new Tha Blue Herb full-length. In may, Sell Our Soul was released. This was the sound of a more mature and complex Tha Blue Herb, an album deserving to be heard worldwide. S.O.S. is their most successful release so far. Since then, both Boss and O.NO. have been working on their other projects. Herbest Moon for the MC, Shigam and releases under his own name for the producer. They came back in the spotlights in may 2003 with the great single Mirai Wa Oira No Te No Naka.

Discography (main releases)Tha Blue Herb
Stilling, Still Dreaming (1998 – TBHR)
Only For The Minstrong (1999 – TBHR compilation)
Sell Our Soul (2002 – TBHR)
Mira Wa Oira No Te No Naka (2003 – TBHR)Side-projects
Herbest Moon – Concrete River (1999 – Real Life)
Shigam – s/t (2002 – Jar Beat)
Herbest Moon – SST (2003 - TBHR)
O.N.O – Six month at outside stairs (2003 – TBHR)
Herbest Moon – They dance alone (2003 – TBHR)Offcial website: http://blueherb.go.toThanks to Wo 'Fasaga' Kling for letting me hear some of these albums as well as providing constant help and great advice, François Monti.



- Scarred For Life Volume 2: Television in the 1980

Rolling in five years after the first Vol of Scarred For Life, here we have Vol 2- Television In The 1980s. The five hundred and the thirty-page book is a joy to behold, for those (like myself) who lived through the decade, or those wanting to study the darker/ troubling/ more bizarre side of British TV in the 1980s.




- - In Tenebris Scriptus - A dark aural tribute to H

The name of Howard Phillips Lovecraft is firmly inscribed in the mass culture. The works of the great writer, the inventor of the Necronomicon and the Cthulhu Mythos, inspire filmmakers, artists, and musicians. It is difficult to say how many musical groups appealed to the work of Lovecraft and how many tributes have been made.


- Theory Of Obscurity: A Film About The Residents

Here we have the DVD/Blue-ray release of Theory of Obscurity- the rather wonderful & justifiable praised/ celebrated documentary about the mysterious sound & art collective known as The Residents. And just to clarify I'm reviewing the DVD version of the release- so I'll be discussing the extras etc of this version of the release.


- For Bunita Marcus

I have never enjoyed the music of Morton Feldman. His insistence on total emptiness and dissociated non-structures has never compelled me to attempt to find the meaning some would insist exists in his work. This recording of pianist Lenio Liatsou playing one of Feldman's particularly obscure later works, "For Bunita Marcus", is the first music of Feldman's I have put the time in to carefully examine.


- Whatever Happened to Vileness Fats?/The Census Tak

Here we have a 2014 reissue of two soundtracks from those mysterious sonic eccentrics & quirky genre mixers The Residents. The release takes in two OST from 1984, and they come in the form of Whatever Happened To Vilness Fats? (an edited version of the bands sprawling & never fully released film), and The Census Taker (a low grade black comedy/crime caper).


- Die Infektion Der Geburt

Einleitungszeit make dense & overloaded, but always atmospheric and nightmarish mix of; death industrial, noise, power electronics with grim cinematic undertones. This is this Slovakia five piece 24th releases in their 14 year career


- Suicide In Winters Moonlight

I've had a soft spot for Ensepulchred Mix of keyboard heavy almost guitar stripped Black Metal, Horror film synth grimness & electro noise since their excellent debut album in 06- So it's a really treat to have another hit from them so soon.


- Descension

Descension is Aluk Todolo debut full length after a highly praised 7 inch and what a debut this is. For 37 minutes you tumbled through, get hypnotised and brutalised by this nightmarish, lo-fi , head-ripping and psychedelic black mind fuck.


- Submerged

Submerged is Phaenon (one Szymon Tankiewicz) opening shot of deep, heavy, and expansive dark ambience that as the title suggests is akin to being submerged into an vast underground space or falling down an endless tunnel.


- Outre'

Outre is a death metal nightmare with very gothic, Grand Guignol like & darkly theatrical surreal tendencies that bob like a headless corpse to the top of the audio water ever so often.


- Astral Orange Sunshine

Astral Orange Sunshine brings together four spacey and swirling electronic unfolds with a Merzbow favourite the EMS Synthi as the main sound generator here, but this for the most part stays noise free- with only the last track diving into noise matter towards it's middle.


- A History Of Time to come

Following on from the reissue of Sabbat's second album, this their debut album gets similar treatment. With an extended booklet featuring old flyers/artwork and interviews ect,and extra tracks coming in the form of live version of four tracks from the album.


- Collection

Collection brings together a 7inch split between Wiese and wolf eyes, along with the tow very ltd American tapes cdr from 2003/04. All digitally re-mastered by Wiese in colour inlay from the original artwork. More than just a fan curiosity, this stands as some of both parties best work as collaborators and solo entities.


- Super Roots 3

Super roots 3 is the next in the series of reissues of The Boredoms experimental ep's from 1994 to 1999 on the Very Friendly label. This like the others in the series was a experiment in different sound, that didn't really fit in with things they were doing at the time.


- Human Animal

Human animal sees Wolf eyes taking a more atmospheric and dread filled take on their sound; making an album that's full of shadowy shades and tints of blood reds. Where their last full length release on Sub pop Burned mind, felt like a brutal and crazed audio hammer attack with slight breathers. Human Animal feels like been caught in some hellish dungeon unsure what lies in wait for you or possible awaking tied to a table unsure how you got here and all you can smell is blood and decay.


- Recorder out of tune

Recorder out of tune is a collection of shudder inducing nightmarish audio hiccups, gruelling stretches of bile inducing sound and sour tones. Which will have you teetering on the edge of sanity and sickness; this is prime noise for unhinging minds.


- Turmeric

This is harsh, even by Merzbow standards. All the safety nets like beats, melody and structure, staying in one places for anytime, have all but gone and we are left with a black encrusted grimy beast of an album.That from it's first attack doesn't , let go of your head and throat until near on 4 hours later.


Tha Blue Herb - Heat ost

It has been more than two years since the last Tha Blue Herb full-length. A very long time. Right now, it's a bit unclear when new stuff will be released. Earlier this year, though, TBH released a CD featuring the soundtrack they made for a film.


Herbest Moon - Something we realized / Dubthing we realized

Herbest Moon is the side-project of Tha Blue Herb's MC, Ill-Bosstino. After a few 12 inches, here are two full-lengths. I've got mixed feelings on them.


Only For The Mindstrong - Only For The Mindstrong

Ah, label samplers… Some are cool, some are not. Some feature tracks known by everybody, some feature unreleased tunes. This one is DA SHIT, let me be very clear from the start! A must, oh yeah!


Herbest moon - Concrete River / SST / They dance alone

Sometimes, being an MC is not enough… Herbest Moon is the music created by one of Japan's best rappers, Boss the MC, and his friend Wa-Chall. Hiphop with dub and reggae influences. Expect some funk too...



O.N.O - Six month at outside stairs

What happens when the DJ of the best Japanese hiphop band releases a solo CD ? You expect an instrumental hiphop album that will be compared to DJ Krush. O.N.O is happy to wrongfoot these preconceived notions...


Tha Blue Herb - Stilling, still dreaming

Before becoming the truly innovative force they have turned to be on their most recent releases, Tha Blue Herb have released a first album that had a much more straightforward vibe. This album is Stilling, still dreaming.


Tha Blue Herb - Mirai wa oira no te no naka

One year of silence for Tha Blue Herb. Way too long if you ask me. Of course, in the meantime we had records from their other projects, Herbest Moon, Shigam and O.N.O (all reviewed or to be reviewed here). But it was high time that the great TBH released some new material. Mirai wa oira no te no naka (the future is in our hands) is their latest single.


Shigam - Beauty

Tha Blue Herb is the best unknown band in the world. DJ O.N.O is the man behind their music. He is also part of Shigam who released a few months ago a stunning ep called Beauty. Unfortunately, it's unavailable in Europe.


Tha Blue Herb - Sell our soul

One of Japan best kept secret, it's high time that everyone stop and take notice of Tha Blue Herb. Hailing from Sapporo, far from trendy Tokyo, those blokes have developed a very original and extremely enjoyable vision of what hiphop should be.



Tha Blue Herb - Blue notes in Sapporo

Tha Blue Herb came to my attention through DJ Krush. He made me want to check out more and I'm glad I did... You should too! After a few months spent discovering their music, I decided to make the big jump and contact Ill-Bosstino to arrange an interview.



Tha Blue Herb - Still Standing In The Bog

Sell our soul's highlight: heavy and progressive hiphop at its best.


Tha Blue Herb - On The Street

Fine cut from Tha Blue Herb's Sell Our Soul. Listen and then realise that you have to own the album.


Tha Blue Herb - The Future Is In Our Hands

Mirai Wa Oira No Te No Naka (The Future Is In Our Hands) is Tha Blue Herb's latest single. Expect off-killer beats, industrial sounds and a deeply electronica-influenced form of hiphop.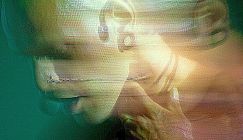 Dave Phillips - Humanity Is The V...
It must be a good ten or so years since I've last heard anything from radical, at times deranged and downright gut-wrenching sound maker Dave Philllips...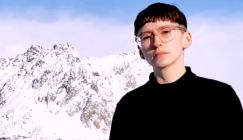 Tine Surel Lange - A Great Ear F...
One of the more creative and distinctive sound-art/ manipulated field records to appear in recent times was this year's Works For Listening 1-10. Relea...