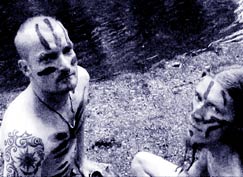 Origami Galaktika - Stjernevandring [2001-06-26]In association with Jester Records we present a new Origami Galaktika track from their new record 'Stjernevandring/Eesti Lilled Silmad Süda'. Great Ambient, atmospheric music.Get it at Jester Records.Press ReleaseI could liken Origami Republika to a virus, but must rather compare it with the dandelion. Forever growing in out-of-place places, firmly getting a grip where nothing should indicate its presence. But also the futile spending of seeds in large numbers, sent out to someone as interested and caring as the wind. That would be the destiny of enthusiasm, to shed freely from your overflow to a public with their senses already bombarded.The many-headed troll (O.R. being of Norwegian origin) that is the Republika consists of people involved in just about any counter- or sub-establishment art form imaginable, from music to politic to majic. Close to 200 active agents in 17 countries continuously sow their little seeds - or toss coconuts in your face.For me, the main principle must be the freedom principle. Freedom being an old Norse word transliterally meaning that you are doomed to be free. Freedom of matter, form and expression. The art of transferring something plain into a wonder for the mind and senses. Origami.If you would like to know more about the faucets that are Origami Republika, spend some time at www.kunst.no/origami You'll find a mountain.Origami Galaktika is one of the most active cells of the Republika. And by and large, Origami Galaktika is Benny A07. I remember vividly the first time I looked up at him. Approx. 1990, dancing at a concert. He was just as tall as he is today, but not as high, and his scrawny beard was shorter (it has never been cut, believe it or not). What immediately drew me towards him was the joy so apparent in him. Joy of music, dancing, whatnot. I am not saying that he is all hippie, though he looks harmless enough. He can have his monster moments. Inside and out. But he has purpose. I know of few people who have spent so much of their energy, time and other resources into what many would hardly call music. Music for travelling. Anywhere.And that's just what he does. Always on tour. Or between tours. Today, I just spoke with him on the phone, and he was on the train headed for Germany, Poland, Slovakia and Sirius. In 1998 we hardly saw him at home. He did some 70 concerts. Pretty good for a non-profit road show. You'd have to make money to do more.Playing nude is a good Origami trick. Benny's been naked a lot at concerts. Mostly his own. In semi-erect or diminutive conditions depending on climatic conditions at the venue. He's been chased on and off stage, loved and beaten. Benny has also played in other bands, like the infamous chaos orchestra Dunkelheit. He was in Humid, and landed the spaceship that is Vortebekk Spazeband on many uncharted planets. He's always on the verge of releasing a stoner album. Of the Origami fractions he has been in numerous. Most notably (perhaps) with Arktika, where he contributed on for instance the Faqul album, and on long and strenuous tours. As Galaktika he has collaborated with Kelly A34, and on tour with Manipura (Neil A94) and Inderst Elia (Thomas A93). He's played with such diverse other bands as Nocturnal Emissions (live album out on Staalplaat), Daniele Brusaschetto, I:wound, Stillupsteypa, Controlled Bleeding, the Iditarod, and many others. The latest project was a collaboration with a painter of tranquil landscapes, Bård Solhaug, resulting in a stunning cd/book with prints of the paintings, and music to go with them. Or the other way around. Horisont.And he is benign. Look here for more stuff. Finally these albums. Ambient gems now comprised in an elegant 2xCD from Jester Records. Stjernevandring/Månedans was recorded during x-mas 1994, by Benny and his brother Kelly. Family thing by day, outer space thing by night. The owner of the studio thought it was absolute crap. We know otherwise. Originally released on vinyl, with a beautiful poster by Cicilie Risåsen A42. Too bad for you who are missing out on that one! Also you have the double album with the unpronounceable Estonian name. It's got something to do with friendship. Maybe that's what it all comes down to in the end. We're all in the same boat. Rock it..:: Download MP3 ::.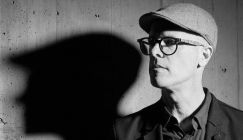 Richard Chartier - Interreferences
Among the large number of styles with in the wider Experimental electronics genre, minimalism is the most intelligent, abstract and, at the same time, radica...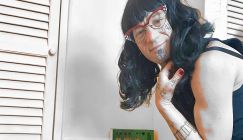 Root Cellar, Monolithic Torment, ...
Cory Adieen is an American trans-gender noisemaker, who has been creating some of the more impressive and entrancing walled noise I've heard in some ti...