Ulver - Nowhere/Catastrophe [2001-06-15]Ulver has a new album out and it's not what everyone expected it to be. Download this full lenght song now!Perdition City is just out and it's already a succes. From playing black-metal Ulver metamorphosed into an act which has no boundaries. The new album is a soundtrack to a hot and gloomy metropolis. Nowhere/Catasthrope is the perfect track to experience these sounds from a dark city..:: Download MP3 ::.




Mossy Kilcher - Northwind Calling
There seems to be a never-ending supply of recordings reclaimed from the lost alleys of the past, and Tompkins Square have reissued another beauty. Mossy Kil...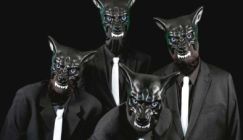 The Residents - Old Dog's Still S...
Many bands/projects in their later years ease back on the sonic gas- be it slow down, mellow-out, or water down their sound. But that's certainly not the cas...