Ulver - Nowhere/Catastrophe [2001-06-15]Ulver has a new album out and it's not what everyone expected it to be. Download this full lenght song now!Perdition City is just out and it's already a succes. From playing black-metal Ulver metamorphosed into an act which has no boundaries. The new album is a soundtrack to a hot and gloomy metropolis. Nowhere/Catasthrope is the perfect track to experience these sounds from a dark city..:: Download MP3 ::.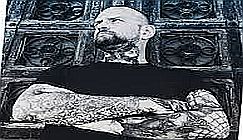 Feed Them Death - Panopticism: Be...
The second release from Feed Them Death, Panopticism: Belong/Be Lost has Void (Antropofagus) once again handling all the instruments, vocals, and production....






Paul Dever/ Blood Eagle - Years I...
Paul Dever is one of the longest-running & respected names in the Harsh Noise wall - he's been active in the scene since 2005, with his most known projec...