Sometimes Aunt Martha Does Dreadf...
The wonderfully entitled Sometimes Aunt Martha Does Dreadful Things is a mix of wacky sit-com, psychodrama, and bizarre/ badly fated romance. The early 1970s...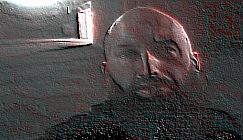 The Night Porter & Slowgurn proje...
The walled noise scene, within the UK, is sadly rather small, but it's certainly growing. And one of the key figures in this growth is Hertfordshire-ba...