Psicopompo, Lorenzo Abattoir, Hermann - Synchronicity (Theory Of Carl Jung)

4iB has been on quite a roll with quality releases this year. Perhaps the most intriguing is this new CD by PSICOPOMPO, entitled Synchronicity (theory of Carl Jung). PSICOPOMPO means Psychopomp in Italian, a guide who accompanies the dying to the afterworld. A fitting moniker for this collaborative effort from Hermann Kopp and Lorenzo Abbatoir. Kopp is a long-running German composer, known for, but not limited to, his soundtrack work on the Jörg Buttgereit films: Nekromantik & Der Todesking. Abbatoir is perhaps best known for his dark HNW project Nascatari. Both are accomplished in their own respective crafts, but together they've created something quite special.


Body Stress - No Flesh Will Be Justified

This cassette, on Palinopsia Recordings, comes with an effectively grimy inlay - a xeroxed collage of eyes, blown-out buildings and medieval woodcuts. The tape contains four tracks and amounts to around forty minutes of noise.


Schräge Musik - Fleischmaschine

Fleischmaschine is the 2014 full length debut release from Schräge Musik, which is one of the recent project of respected British industrial/experimental artists Patrick Leagas- who was a major part of the early Death In June line-up, and went onto to some great genre shifting work with his 6 Comm project.




D.S.W.A.C.V/Chaste - Black Tape Series 004

Here we have a C50 split that offers up two twenty five minute slices nihilistic & nasty walled noise. It brings together northern English project D.S.W.A.C.V, and Chicago USA based Chaste.


DeaD!!! - A Terminal Grief

A Terminal Grief is the second releases from DeaD!!!, which is the new project of Manchester based James Patrick (of Cherry Blossom At Night, & runner of HNW/ PE label DeathSexElectrionics). The release comes in the form a CDR, and it features two mid-ranged length slices of walled noise that focus in on slowed & extremely bleak wall craft.


Christopher Bissonnette - Pitch, Paper & Foil

Canadian sound artist and designer, Christopher Bissonnette, came onto the scene in 2005 with his release of

Periphery

. Ten years later, Kranky brings us his newest,

Pitch, Paper & Foil.

Expanding his sound and, more importantly, his work on modular synthesis,

PPF

is about growth and restraint. Christopher has grown and taken more control of his modular and, because of this, has learned how to channel it into loving synthesis instead of typical modular, self-indulgent noodling.




Carrion Black Pit/Phantom Cadaver - Split

From late 2013 here's a two way HNW split - it features two tracks from Carrion Black Pit- the often progressive São Paulo based horror themed HNW project, and one lengthy track from Kansas City based Phantom Cadaver. I'm reviewing the CDR version of the release, so I'm guessing this is long out of print, but you can still get a digital download from Excavated Prod bandcamp page.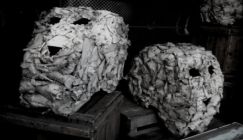 Psicopompo, Lorenzo Abattoir, H...
4iB has been on quite a roll with quality releases this year. Perhaps the most intriguing is this new CD by PSICOPOMPO, entitled Synchronicity (theory of Car...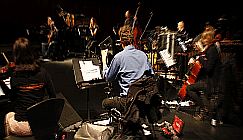 Zeitkratzer - The Noise Chamber
German chamber orchestra Zeitkratzer are far from a conventional chamber orchestra- since the late 1990's the nine piece project have created the...