John Carpenter - Assault on Precinct 13 (OST)

For many years this soundtrack was one of the great lost works of John Carpenter's early, edgy & influential synth soundtracks. It got itís first release in 2003 as purely a vinyl edition on French label Record Matters, but then in 2013 it got a full & highly deserved multi format reissue on ukís Death Waltz Recordings- appearing in two separate vinyl version, a cassette version, and a CD version( this is the one Iím reviewing).


Tenebrious/Ascetic Hedonism - Split

This split release brings together two US underground acts that deal in darkly swirling & occult tinged ritual ambience, which is edged with (mostly) subtle blacked noise elements. The release comes in three different versions- a CDR & digital download (on Occult Supremacy Productions), and a C50 tape( on Worthless Recordings)- both the CDR & tape versions each come in a edition of 50 copies, and Iím reviewing the digital version of the release.


Automating - Somnambuli​st

This is a nicely, diy packaged release; combining a stumptown cardboard wallet with collages and transparent sheets of text. The cdr contains eighteen tracks, forming a large collage just over an hour long. One of the transparent sheets has a long introductory text, which concerns itself with sleep, memory and ďpsychoacoustic techniques as a form of data deliveryĒ; and indeed, there is a dream-like atmosphere to the recordings.



Luie Luie - Touchy

Luie Luie is a buoyant, exuberant yet slightly wonky & bizarre one-man-band lounge act from the 1970ís. Touchy was he one & only full length album from 1974(though apparently heís released a few 45ís), and truly this is a release that has to be heard to believed!.


Ńkos Garai - The Imagined River

This 3inc CDR finds Hungarian sound artist Ńkos Garai creating a rather enthralling & moodily atmospheric track built around manipulated river/water recordings, & haunting electro texturing.


Torn the Fuck Apart - Sexually Transmitted Torture

Normally, extreme metal and subtlety don't go hand in hand (save for some glorious acts like Gorguts), and Kansas City's Torn the Fuck Apart is no exception. If the name didn't tip you off, these guys are a 13 year old's dream. Well, a 13 year old that hasn't heard any other death metal before, that is. TTFA's follow up to 2012's The Dissection of Christ has the quartet moving from cliche'd Christianity hating lyrics/titles to cliche'd gore/murder/cannibalism lyrics/titles. Well, at least the band name is better than Deathchain.


Where Is This - Elegant Domesticity

Bored Bear Recordings presents Elegant Domesticity, a CD-R release by Dublin-based noise act Where is This. The moniker of Mark Ward, WIT performs a caustic blend of harsh noise flirting with HNW. A few months back I had my first brush with WIT, reviewing Wardís split with Sleep of Ages. I enjoyed the split thoroughly, so I was thrilled to go another round with Mr. Ward.




Eastern Front - Descent into Genocide

As an American, my education with regards to WWIIís eastern front has always been lacking, no doubt stemming from the fact that Americaís involvement in the eastern front is negligible at best. Itís a shame, really, because Russiaís war with Germany is way, way more interesting. From the massive tank battles on the plains of Kursk to the bloody battle for Stalingrad, the eastern front was an awe inspiring theater, ultimately ending with over eleven million dead. Given that war, death, and destruction are favored themes of metal, the eastern front seems like a goldmine for metal band. Strangely enough, I canít bring to mind a single band that has covered it extensively. Well, thankfully we have the UKís Eastern Front to fill that gap for us.


Abyzm - Pyre

Pyre offers up three slices of dense, suffocating and extremely heavy Ambient Walled Noise from this Kansas City based project. Iíve enjoy most of what this project has put out since it started in early 2013, but I must say this CDR is some of the best work Iíve heard the project release thus far.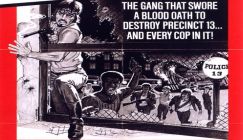 John Carpenter - Assault on Preci...
For many years this soundtrack was one of the great lost works of John Carpenter's early, edgy & influential synth soundtracks. It got itís first release...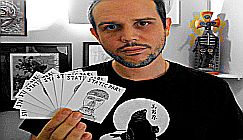 Julien Skrobek - Artful Static
Frenchman Julien Skrobek is one of the more interesting & thought-provoking figures to appear from the European HNW scene. Firstly the sound of his many ...