Grizzly Imploded - Anabasi

This is a very simple, but smart, cdr from sincope; presented with a folded card cover, adorned with abstract, 'formal' imagery. I use 'formal' in the sense of 'concerned with form' - the images are collaged papers, crumpled and layered. This gives a fitting clue to the sounds to be found within, which also explore the formal nuts and bolts of 'rock music', in a most abstract form. Grizzly Imploded are a drums/guitar/guitar trio from Italy, and 'Anabasi' was recorded several years ago.


Richard Chartier & William Basinski - Divertissement

Veteran composers of deep listening, avant garde and ambient music Richard Chartier and William Basinski have joined forces again for this LP, "Divertissement", their 3rd collaborative album, the series starting with "Untitled 1-3" in 2004. I thoroughly enjoyed "Untitled 1-3", finding it a refreshing change from the style and sound palette of each artist.


Nightmare Castle - Phibes

Here we have the welcome return of Nightmare Castle- the Louisiana based horror themed walled noise project of Clint Coker. The project was meant to end for good a year or so back, so it's great to see Coker deciding to resurrected it, as it's always stood as one of my favourite US walled noise projects.


Swallowing Bile - Guerrilla

Guerrilla offers up four slices of spiteful, roasting, & caustic walled noise from this rural Upstate New York project. The tracks run between ten to seventeen minutes a piece, with the whole release been themed around terrorism & violent resistance.


Tristan Louth-Robins - The Path Described

3 Leaves presents The Path Described, a 3 track CD by South Australian sound artist Tristan Louth-Robins. Over the years I've heard a number of field recording albums documenting the natural word. Most recordings are expertly captured, but it's a genre many find easy to discount. There is certainly no lack of recordings documenting the sounds of crickets, waterfalls, birds, wildlife, traffic, wind, etc. However, if the only thing that draws me to a recording is the pure sonic experience, then I might find dismay in "another" field recording disc to review. However, what grabs me in are the stories that led the artist to record the sounds. In that sense these albums are as much about personal biography and the emotional imprint the artist leaves on the final product. The Path Described embodies that ideal of field recordings being not only a document, but a personal statement of the artist's life.


Festerday - The Four Stages of Decomposition

Unfortunately relegated to the shadows of the Swedish and Norwegian scenes, the Finnish death metal scene had some champions in their own right. While bands like Abhorrence, Xysma, and Mordicus rose to prominence, scene players like Festerday struggled to get their output recorded and released to the masses. With demos gaining attention of well known labels like Peaceville, Wild Rags, and Drowned, it seemed like Festerday's time was sure to come. But, to quote Vordul Mega, "Life's ill." Festerday faded away, but fortunately, they were not forgotten. 25 years later, the newly reformed band started to rehearse their old material. Svart records showed interest, and we're now presented with a double CD of all Festerday's studio output, live and rehearsal tracks, as well as new renditions of nine old songs.




Cory Strand - Oblivion Adorned

Oblivion Adorned finds this highly prolific, Minneapolis based noise/drone artists offering up two lengthy slices of guitar based drone matter. The two here tracks move from taut & airless industrial tinged ambience, onto more harmonic & rising drone simmers, through to more surprising drum based turns.


Helm - Olympic Mess

Luke Younger's last release as Helm - 2014's The Hollow Organ - made it onto the Wire's records of the year list. Its refined yet uncompromising take on machine rhythms, industrial atmospheres and submerged techno was a concise enough statement to suggest a lot more to come in the same vein from the London based artist. As it turns out Olympic Mess is quite a considerable step both sideways and forward for his sound and contains more than a few surprises.




Abyssion - Luonnon harmonia ja vihreä liekki

Finland is possibly home my favorite black metal scene as of late. There are so many excellent bands and more sprout up each year. Unfortunately, the sheer numbers make it difficult for a band, no matter how decent, to stand out. Abyssion belongs to this group of bands that, while perfectly capable and enjoyable in their own right, don't quite have what it takes to elevate themselves from the crowded Finnish scene.


Kristoffer Oustad - Filth Haven

As half of industrial duo K.N.O, Kristoffer Oustad is no stranger to Malignant Records. Filth Haven, however, sees Malignant releasing Kris' debut solo outing. The dark, brooding synths, guitars, and field recordings on display evoke a haunting, cinematic atmosphere. While each track stands on its own, they manage to work together to make a full, coherent album. A dark and drifting voyage, Filth Haven draws the listener in, tucks him under its wing, and flies him through this dark world.


Logical Fiend & Black Matter Phantasm - Obsession

French imprint Nahàsh Atrym Productions presents Obsession by Logical Fiend & Black Matter Phantasm. This limited edition c90 cassette was released in the early days of 2014 and features a couple of frenchmen who have been pretty active in the wall noise genre over the last couple of years.




Yann Novak - Snowfall

Here's a cd on Dragons Eye Recordings, with a very stark, elegant design: just black, grey and white simplicity. The track it contains is also disarmingly simple: an hour-long drift through frequencies and textures.


Örök - Übermensch

With titles like "Übermensch", "Will to Power", and "The Death of God", I was hoping this latest release from Örök would have some heavy Hate Forest influence. Sadly, it seems that this Portuguese outfit takes influence from the more commonly delved, depressive and atmospheric sides of black metal, with influence from bands like Burzum and Xasthur. Übermensch is the second release from Örök, following a full-length debut in 2013, and released in April by Signal Rex on CD, and by Bisnaga Records on tape.


Steve Roach - Skeleton Keys

For his new album "Skeleton Keys", ambient veteran Steve Roach brings us a richly analog piece of unadulterated synthesizer worship in the tradition of "Life Sequence", "Empetus" and "Proof Positive". As with the 3 albums just listed, a sequenced, grid-locked sound dominates the album, a more stable 4/4 than many of Roach's drifting sound currents, the compositions developing through permutations of spiralling arps. The melodic aspects of the music are more boldly stated than is typical in Roach's often sparse and completely gaseous sound forms.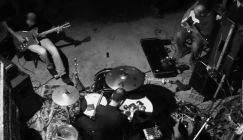 Grizzly Imploded - Anabasi
This is a very simple, but smart, cdr from sincope; presented with a folded card cover, adorned with abstract, 'formal' imagery. I use 'formal' in the sense ...




Martin Kay - Metal Bound
Martin Kay is a Australian sound artists, field recordist, & sound designer- he's more interesting figures presently working with-in the whole field reco...