Snuff Prom - Great American Death

Snuff Prom is one of the many projects of highly respected & influential Texas based noise artists Richard Ramirez- the project has been active since 2002, and describes it's self as a Harsh noise project of various members. But for this release it's seemingly a solo venture, with Ramirez offering up three slices murderous, moody, yet searing noise matter which brings together walled noise with yet thick murky drone matter.


Asleep In The Lake - Maze Of Forgotten Ghosts

Asleep In The Lake is Massachusetts based project who creates atmospheric walled noise with gothic horror & dark legend themes. This CDR release on Tera-AntiQu is the projects first full length physical release, after a few splits & digital albums.


Mathias Delplanque - Transmissions

"Transmissions" comes in a card wallet, simply and elegantly adorned with a close-up of machinery workings; this is very apt, since thats precisely the content of the disc, too. The cd has four tracks, ranging in duration from near three minutes, to a mammoth near-forty. All the pieces use the sounds of machines: "Part 1" and "Part 2" utilise loom sounds as source material, whereas "Part 3" and Part 4" are more broadly based on "machine-tools sounds". This truly industrial material is fashioned by Delplanque into collaged constructions, flitting between raw sounds and processing.


Clive Henry - Day Of The Woman

This c80 tape offers up a searing yet creative walled noise tribute to infamous video nasty Day of the Woman ( aka I spit On Your Grave). It was released back in 2014 in an edition of 50 copies- so hopefully you'll still be able to get your hands on a copy.


Extreme Chafing - Psoriasis

When one thinks of walled noise, they don't normally think of types of skin disease- but that's exactly the theme/ focus of this five track CDR. Extreme Chafing is another project from Florida based Joe The Stache whose known for a few quirk themed walled noise projects such as: Hoggle( based around 80's puppet fantasy family movie The Labyrinth), Pig Shrapnel (based around pork products & their preparation), and Heavy Metal Vomit Party(which sees classic 1980's hair/glam metal fare, converted into a dense, searing, truly overloaded & intense walled noise).


Kartet - Grand Laps

Kartet is a Parisian quartet with a long history of live performance and a discography including several albums of dense, cerebral albums of highly composed and technical jazz.


Trepaneringsritualen - Veil the World

Trepaneringsritualen, Sweden's master of dark industrial meditations, returns with a new offering on Cold Spring. Entitled Veil the World, this offering is actually not a new recording, but a CD reissue of the limited edition cassette originally released in 2011 on Kosci. The reissue is handsomely presented in a 6 panel digipak and fully remastered. I've been a huge fan of Thomas Ekelund's project since last year's massive Perfection & Permanence album, so I've been eagerly awaiting another Trepaneringsritualen (or TxRxP for short) album to fill the void. Veil the World is yet again another grim and caustic blend of occult inspired ritual industrial and power electronics, deeply blackened to the core.




Gruesome - Savage Land

Ah, classic death metal...is there anything more comforting? While a lot of the comfort comes from the nostalgic warmth of discovery, there's something to the tight, brutal simplicity of good old, Tampa-styled death. Sitting outside on a nice spring day with a pipe, a cup of tea, listening to death metal while being pelted from above by inchworm droppings really makes one happy to have been exposed to lots of life's simple pleasures.




Achterontas - Ma Ion (Formulas of Reptilian Unification)

I'm really starting to get sick of occult, riffless black metal that seems to be in vogue: bands that would rather spend a quarter of their album chanting, playing little ritualistic drum beats, and looping dark ambient tracks than laying down the metal law and bringing the riffs. What's even more puzzling is that these bands are ostensibly worshipping Satan. Everyone knows that Satan is more pleased by neckwrecking riffs than incense and occult triangles; someone needs to let these guys know that they're screwing up. Achterontas is a Greek band playing in the aforementioned style, preferring to let their general occultness and nonmetal portions of their music do the Satan worshipping for them, while the neglected metal potions languish by the wayside.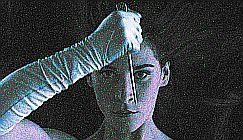 Snuff Prom - Great American Death
Snuff Prom is one of the many projects of highly respected & influential Texas based noise artists Richard Ramirez- the project has been active sin...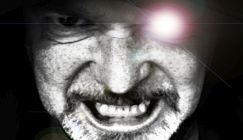 Andrew Liles - The Monster-Maker
Andrew Liles is one of the most prolific & respected figures working in British experimental music & sound. Over the years he's worked with the likes...