Ecco - The Curse Of Her Flesh

Here's another slice of searing 'n' sleazed walled noise from Julien Skrobek's (The Killer Came From The Bronx ,Ghost, The Sandman Wears A Mask, Ruine, Butch Bag, Gasp, Ruine, etc) Ecco project. All releases from this project are based around 60's & 70's grind house movies, and this release is themed around 1968 roughie sexploitation movie The Curse Of Her Flesh.


Boar/Mass Graves - Split

Here's a split CD that brings together two dense & darkly mood yet brutal slices of walled noise from these two USA scene veterans. Featured here is Dubuque Iowa based Boar- whose been active since 2009, and Missouri Mass Graves- whose been active since 2010.


Sky - Sky

Sky were an English/Australian instrumental progressive rock group who created a approachable brand of classical influenced rock music & fusion. The band were at the height of both thier popularity and artistically between the late 1970's & the early 1980's. This is a 2014 reissue of the bands 1979 debut album, and it's great mix of memorable melodies, rewarding compositions, & virtuoso yet never over showy musicianship.


Martin Popoff - Blue Öyster Cult- Secerets Revealed!(book)

Blue Öyster Cult are one of the more creative & lyrically clever rock bands to appear from the USA in the 1970's- moving their sound from early dark & heavy metal , onto prog bound rock/ metal styling's, through to their later pop/ rock sound. This rather wonderful book is the first full length study of this sadly undervalued & underappreciated band- taking in their career in a album by album like layout. Charting the history around each album, lyrical themes, album artwork, etc.


Carrie - Send An Army Of Angels

Here's a cdr utilising the undoubtable talents of two shining lights in HNW: James Killick as Carrie and Julien Skrobek as the owner of Bad Rip Series. Killick is the figure behind such projects as Love Katy and Small Hours, as well the labels Sweet Solitude and Vagary Records; whilst Skrobek has a plethora of notable projects and labels under his belt - Ghost, Static Park, Butch Bag and Ruine, to name a few of the former; with Slow Death Records, Ink Runs Recordings and Corpse Grained Series as the latter. The twenty-six minute long track, "Send An Army Of Angels", is all Killick's work, though and, as with his Love Katy persona, the piece is dedicated to a modern pop singer: Carrie Underwood (yes, I had to look her up).


Kesä - Kesä

Forged from the ashes of local punk and hardcore bands, Helsinki's Kesä are set to release their self titled debut on Svart Records later this month. Using their shared love of the music they grew up with as their inspiration, Kesä plays a modern take on New Wave, New Romanticism, and other cold, synthy 80's styles. Despite the commitment to colder vibes and textures, Kesä's inspiration and dedication feels true and through this creates something cold, but warm with feeling, and robotic, but still pretty danceable.


Fear Konstruktor / Barrikad - The Path To The Black Lodge

Peripheral Records presents The Path to the Black Lodge, a collaborative CD by Fear Konstruktor and Barrikad. To be honest, I'm not really familiar with either artist, but I've seen the name Fear Konstruktor around the block. Of course, as a dyed in the wool Twin Peaks fanatic, I was intrigued by the obvious references in the title and the cover art. Over the years many artists have used the cult television show as a theme or source of inspiration, so much so, that some might say that it's been played out. However, as an obsessive fan of the show, I say give me more.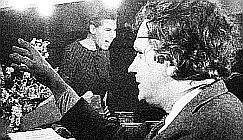 Ecco - The Curse Of Her Flesh
Here's another slice of searing 'n' sleazed walled noise from Julien Skrobek's (The Killer Came From The Bronx ,Ghost, The Sandman Wears A M...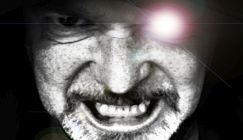 Andrew Liles - The Monster-Maker
Andrew Liles is one of the most prolific & respected figures working in British experimental music & sound. Over the years he's worked with the likes...