Peter Epstein Quartet - Polarities

Saxophonist/composer/bandleader Peter Epstein and his band play a cerebral iteration of classically informed post bop with complex, meandering head melodies inspired by the likes of John Coltrane or Eric Dolphy, whose asymmetrical, oddly composed figures may at first sound improvised, until played again verbatim in their vast entireties. With 9 diverse pieces spanning 65 minutes, Epstein's group covers a huge amount of ground.


Female Paedophile - Never Safe

Female Paedophile is the walled noise project of Nacogdoches Texas based Josh Doughty - also of downer synth/ noise project Funeral Parlour, and runner of noise label dampster noise. The projects been active for around a year or so, releasing a few splits, a stand alone tape, and a stand alone eight track.


Wallmaster - You Exist For Nothing Vol 1

Wallmaster is a Montreal, Québec based HWN project that creates a dense & unforgiving take on walled–noise. The project came about in mid 2013, and has been highly prolific putting around twenty digital only releases, and nine or so cassette releases. This C90 tape appears on the projects own label in a edition of 10 copies, and was the first of the 'You Exist For Nothing' series which has now reached vol 6.


Sabbath Assembly - Quarternity

Quaternity is the latest release from Sabbath Assembly. Formed in 2009, the project is dedicated to the quest set forth by the Process Church of the Final Judgment; offering their hymns and theology for the current generation. Sabbath Assembly also performs its own material in the spirit of the message of the Church. So what is, or was the Process Church? The Process Church was founded in the mid 60's and lasted until the late 70's, starting as a splinter sect from Scientology. Look up The Process Church of the Final Judgment online and you will find a plethora of information, some factual some a bit sketchy but interesting none the least. Lyrics are culled from The Process texts and the Bible (Deuteronomy, Revelations and Psalms.)


Wrekmeister Harmonies - Then It All Came Down

Wrekmeister Harmonies is an experimental music collective based out of Chicago, IL. It is lead by JR Robinson and combines elements of drone, post-rock and metal. Various musicians have been associated with Wrekmeister Harmonies such as Wrest of Leviathan, Sanford Parker, Ryley Walker, Bruce Lamont, Chanel Pease and Chris Brokaw. This is Wrekmeister Harmonies second release with Thrill Jockey.




Sleaford Mods - Chubbed Up +

Sleaford Mods probably need no introduction to you, but if you have missed out on their rise, they're a beats/words duo producing raw, stripped-back, pop-sized barrages. I like to think of them as The Fall relocated to Nottingham, attempting to form a hip-hop project and making a young Mark. E. Smith spit with rage in the process. So, whilst it's spiky and belligerent in tone, musically its often very straight-ahead; beats and riffs pounded into the ground: "repetition, repetition, repetition". "Chubbed Up +" physically releases a digital compilation from earlier this year - collecting up tracks from singles - and adds a couple of unreleased songs into the mix.




Roger Ruskin Spear - Electric Shocks

Electric Shocks was the first full length release from this multi-instrumentalist & former Bonzo Dog Doo-Dah band member. The album originally appeared on United Artists Records in 1972- this 2014 reissue brings together the albums original nine tracks along with the four tracks from Spear's first EP Rebel Trouser.


Lewis - L'Amour

Crate digging and record collecting have been going on long before the internet became everyone's favorite everything. It did, though, change the way collectors could share their finds with the rest of the community. Blogs, bulletin boards, and other websites allow collectors to spread the joy they get from finding underheard classics or, in the case of Lewis' L'Amour, albums that weren't meant for a mass market. These rare, small batch, private press records are much sought after, and the more obscure, the better. Since no one you know has ever heard them or talked about them, these records have a more personal feel to them, like they were made expressly for you. This is especially true with Light In the Attic's latest re-release, Lewis - L'Amour.


Rauhnacht - Urzeitgeist

Rauhnact (well Stefan Traunmüller to be exact as it is his one man band) returns with Urzeitgeist, their second full length. Traunmüller is no stranger to black metal as he is also a member of Wallachia and Golden Dawn. Rauhnacht, for the uninitiated, titles their music as Alpine black metal; which is a combination of early Norwegian Black Metal and the alpine philosophy, traditions and folklore. All lyrics are in German (Google translator was stumped by most of them).


Sebastiane Hegarty - Four Walks Around a Year: Spring

Gruenrekorder imprint presents Four Walks Around a Year: Spring by british artist, writer, and lecturer Sebastiane Hegarty.


Steinebach - Derotation

Steinebach (alias of Martin Steinebach) released this CDr of crackling tape loops and mangled analog static on Sincope in 2013.


The Deathtrip - Deep Drone Master

I'm going to come out and say it – there isn't much good about The Deathtrip's debut album. From the strange goth album cover to the atrocious vocals to the terrible pacing, the album is one mistake after another. This is apparent from the onset of the intro, where Aldrahn and co thought that didgeridoo plus chickens clucking would be a good way to kick off an album. And it really doesn't get much better than that.


Shambala Networks - The Last Winter

Befitting its title, this epic double disk ambient release, "The Last Winter" is empty, cold and expansive, always receding into silence. Each of its 12 glacial movements stretches between 3 and 15 minutes. Shambala Networks apparently has an extensive discography including more than 15 digital releases, which I've been unaware of until now.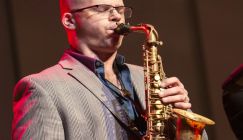 Peter Epstein Quartet - Polarities
Saxophonist/composer/bandleader Peter Epstein and his band play a cerebral iteration of classically informed post bop with complex, meandering head melodies ...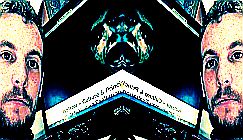 Ryne Barber - Hearse Fetish,Tomb...
Ryne Barber is Maryland based noise maker who creates an appealing & often horror focused mixture of industrlized HNW, Hars...