Hollywood Horror House(DVD) - Hollywood Horror House(DVD)

Here we have a recent DVD reissue of a long out-print horror movie from the early 1970's. Hollywood Horror House( aka Savage Intruder) is a haphazard, though enjoyable blend of psycho-chillier, Old Hag Horror, and Herschell Gordon Lewis gore, with hints of deranged psychedelics & a setting of Hollywood decline in the 1970's.


Free As Dead - Tombeau Vital

Here's a fancy, professional affair from 4iB Records/Decimation Sociale, with a pro-pressed CD, in a full colour digipak. The album contains four tracks from Free As Dead, the organ-heavy project of Romain Perrot - better known in his Vomir guise. He is aided and abetted here by Andy Bolus (of Evil Moisture), whose contributions are described as 'Background Squelch Sounds' on the inlay. The CD amounts to over 70 minutes, and unfortunately, it does feel that lengthy.


Witchtrap - Trap the Witch

Previously released at the end of 2015 in a small print run in their native Colombia, Trap the Witch is the fourth full length from Witchtrap. A Latin American power trio with a penchant for classic, old school thrash metal of the Teutonic variety. The album was recorded, mixed and mastered at Dirty Sound Studios in Medellín, Colombia.


Michael Blake - Fulfillment

Modern jazz composer Michael Blake caught my attention in 2012 with the album "In the Grand Scheme of Things", an adventurous and heartfelt slice of melodic jazz which explored an entirely new approach to music with each piece. With his newest album, "Fulfillment", his horizons have expanded even further, though his music remains sweetly tuneful and lounge friendly.


SIAN - Setting/Another

In their ongoing campaign of re-releasing hard to find and out of print AUBE albums, Iris Light have done their best to keep the public (well, the noise listening public, at least) reminded of the brilliance of Akifumi Nakajima. As a surprise to AUBE fans, Iris Light has released Nakajima's SIAN project. Recently discovered after nineteen years, Setting/Another shows AUBE's more restrained side. Still harnessing all the creativity and wonderful experimentalism he was known for, SIAN's Setting/Another will be a welcome release for fans of AUBE's catalog.


Herbie Hancock - Thrust/Man-Child/Secrets

Here we have a two disc CD reissue from late 2016, bringing together three 1970's albums from this highly respected jazz/funk pianist, keyboardist & band leader. All three albums here sit (fairly) firmly in the funk/ jazz-funk/ Jazz-fusion side of Mr Hancock's out put.Featured here we have 1974's Trust, 1975's Man-child, and 1976's Secrets, plus a selection of shorter single versions from over all three albums.


Naughty,The Ebony Tower, Big Hole, Impul - V​/​A 4 Way Box Set

From early Summer 2016 here's another four way split wall noise release from Spokane, Washington based label. Back in 2015 the label put out a most worth/similar cassette box set- which purely featured US artists; this second set brings together a mix of HNW artists from the US & Euro scenes.


Teksti-TV 666 - 1, 2, 3

Teksti TV 666 hail form Finland, apparently they employ a wealth of guitars and have only formed 3 years ago. Described as kind of a cross between Neu!, Ramones and shoegazing Hellacopters…my mind was a blur. What the hell will that sound like? More to the point, Why?Finish shoegazing?Christ I'm not looking forward to this. That's what my mind told me.


The Gray Field Recordings - The Weaver's Daughter

The Weaver's Daughter is a yin yang album blending together rich harmonic elements, with more soured & out of tune matter. And the project's sound is very difficult to pin down into just one genre too. As it's a slurred, jarring, and at times difficult blend of: wydfolk, neo-classical, moody avant composition, world music, stripped gothic composition, the blues, stripped-back Americana folk and ambience. With female vocals that move from lush & angelic, onto stark spoken, through to sensual & dark.





Hollywood Horror House(DVD) - Hol...
Here we have a recent DVD reissue of a long out-print horror movie from the early 1970's. Hollywood Horror House( aka Savage Intruder) is a haphazard, t...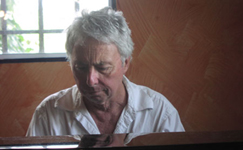 Harold Budd - Existential Beauty:...
Today the lineage between mid 20th century minimalism and what passes now as ambient music is mostly obscured. But lying beneath the sedimented layers of ele...