Gnawed - Pestilence Beholden

Since its inception in 2009, Grant Richardson's Gnawed has propelled itself into the top tier of heavy electronics and death industrial. Pestilence Beholden is Gnawed's third full length disc. You are dragged down into a dark space, surrounded by layers of foreboding atmospherics and foggy ambience over the 9 tracks.


Bit-Tuner - A Bit of Light

Bit-Tuner's "A Bit of Light" represents a currently very 'hip' sound, pairing booming trap 808s and hip hop flavored beats with vintage soundtrack electro synth, bright saw waves and lush pads.


Condo Horror - Social Cleansing

Here's another tape from the Endless Landscapes of Decay label, this time featuring Condo Horror (though, as before, I am reviewing a digital version). The tape has three tracks: a long 15 minute piece, a short five minute track, and a nine minute remix of the second track (again, as with the previous ELD tape, this is constructed by Endless Landscapes of Decay). The tape cover has a beautiful black and white image of ruined buildings, reflecting in a pond. However, the buildings look as if they've been destroyed by bombing, and indeed, the pond might well be a bomb crater filled with water…



Fouke - Hide

Hide severs up four lengthy slices of dense & atmospheric HNW themed around Bigfoot. The release appeared a few years back in 2012 in the form of a four CDR set, and as of writing the label still has copies.


Various Artists - Pyre

Cold Spring's dense and varied catalog allows them to put out low priced samplers of current and forthcoming releases pretty much every year. 2016's Pyre is no exception, boasting 15 tracks of new noise, industrial, dark ambient, and more. With a well known roster and a great price tag, this compilation is a great add on to any Cold Spring order.


Trou - Untiltled

Untitled is a three inch CDR release from this French walled noise/static texturing project. It offers up a selection of tonally & texturally varied pieces, which have running times between just under a minute to over eight minutes.


Sumbru - Sublunary Visions

Sublunary Visions offers up two slices of bleak, bone-chilling, yet persistently fixed walled noise from this French HNW project. The release came in either- a CDR, or a digital download - I'm reviewing the CDR version of the release.


Black Earth - Diagrams of A Hidden Order

'Diagrams of A Hidden Order' is the follow up to 2014's well received debut cassette 'A Cryptic Howl of Morbid Truth'. This latest release features three tracks of blackened noise, featuring elements of death and black metal and dark ambient. This is Black Earth's first CD/digital release. The CD has been released in a limited-edition digipack of only 500 copies on Malignant Records.


Supersilent - 13

The 13th recording from Norweigen avant garde improvisation group Supersilent has arrived, 2 years after its predecessor. Their long sequence of numbered albums began in 1998 with "1-3". Most of their music pairs an occult dark ambient atmosphere with fits of sudden abrasion and unpredictable activity such as one finds in free jazz. Each of the 9 pieces uses a different approach and set of timbres. They vary widely in length, the shortest being 2 minutes, and the longest nearly 13.


Sun Ra/ Merzbow - Strange City

Here we have a recent & fairly unusual collaboration between two big experimental names. Strange City brings together the work of cosmic themed & experimental jazz composer/ bandleader Sun Ra, with the sonic world of Japanese noise legend Merzbow. The unusual & fairly unique thing about this release, is that one of the two collaborators (Sun Ra), has been dead since 1993.


Willem Sannen - Brussel Noord

Brussel Noord is a field recording album presenting sounds from the North District of Brussels. The area is dominated by a large train station, commuters and office towers. The album captures the soundscape of this place in five movements over 24 minutes.





Gnawed - Pestilence Beholden
Since its inception in 2009, Grant Richardson's Gnawed has propelled itself into the top tier of heavy electronics and death industrial. Pestilence Beholden ...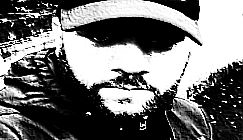 Anonymous Masturbaudioum - Stocki...
Of the recent wave of sexual fetish themed walled noise projects Swiss based Anonymous Masturbaudioum is probably the most creative, interesting, and worthy....