Medico Doktor Vibes - Liter Thru Dorker Vibes

This is a re-issue of a private pressing from 1979, in a digipak with very simple artwork: track titles, a picture-postcard front cover and a photo of a doctor - Mr Medico Doktor Vibes himself, I assume. I've crossed paths with him before - the opening track of "Liter Thru Dorker Vibes" was on an excellent private pressing compilation on Numero Group, but other than that I know nothing about him. Often the story behind this kind of venture is just as interesting as the music itself, but for this review I'll just concern myself with the sounds.


Various Artists - Fire Music Vol. 1

This compilation "Fire Music, Vol. 1" is something like ESP-Disk's attempt at a beginner's guide for what is undoubtedly among the most unapproachable genres, avant garde jazz. It contains 9 classic pieces by some of the genre's most towering, influential figures, from Albert Ayler to Sun Ra, as well as lesser known greats. The music is generally limited to the original era of experimental jazz in the 60's and 70's.


Rudimentary Peni - Cacophony

Rudimentary Peni were one of more unique, darkly surreal & at times down-right-weird projects to appear from late 1970's to 1980's Anarcho-punk scene. And to my mind Cacophony was the bands most consistent, unhinged & wholly rewarding album- it mixed together elements of Anarcho-punk, Death rock, Hardcore punk, weird & comically unsettling spoken word elements, Art punk ,and deranged yet memorable song craft.


Small Hours/ Clive Henry - Split

This split CDR release brings together the work of two of the most creative & consistent figures working in today's uk/euro HNW scene. We have Small Hours,which is one of the projects of Northampton based wall-maker James Killick, and this projects work focuses in on a fairly progressive mix of HNW & ANW. And then we Southampton based Clive Henry, who also creates an often quite progressive mixture of HNW/ANW.




Hrizg - Individualism

Hrizg is a name I've seen thrown around a fair bit on YouTube, Facebook, forums, etc. so I'm actually pretty surprised that Individualism is only Hrizg's third album. Like the album title would suggest, Hrizg is a one man band. Not a huge fan of one man black metal, I approached Individualism with a large amount of caution, which was totally unnecessary as the album is an easily digestible piece of black metal.


Ptomain - Internal Voices

Spider Tapes presents Internal Voices, a 30 minute tape by German-based harsh noise/HNW act Ptomain. This tape was actually released in 2011, and since then it appears that both the label and artist may be defunct at this point. And such is the life of most noise labels and artists, come and gone is the blink of an eye. Of course, unlike the flash in the pan ephemera that is mainstream music, experimental music is ripe to be discovered and enjoyed many, many years after the fact.


Ostara - Paradise Down South

Ostara returns to us with their sixth release, Paradise Down South in 2013. What is Ostara, well it is the musical creation of Richard Leviathan, also know from his project Strength Through Joy. The meaning of the projects name; Ostara is an old Germanic word that meant dawn, but it is also associated with the coming of spring (spring equinox) and the goddess of dawn.


Dead Body Collection & J.Adolphe - Deep Into The Halls

This C40 tape is a collaboration between infamous Serbian walled noise brutalists Dead Body Collection, and atmospheric German noise-maker J.Adolphe. The release is seemingly themed around either an abounded metal asylum or hospital, and it nice shifts between creepy atmosphere lined wall battering, more subdued & eerier industrialized noise drifts, and dips into creepy field recordings


Led Bib - The People In Your Neighborhood

Marketed as 'jazz with the energy of punk', Led Bib are an instrumental quintet that play fuzzed out, groovy stoner riffs with generous doses of harmonized saxophone. They often imitate the sludgy timbres of doom metal using a distorted bass guitar, but have no lead guitarist.


Tom Scott - Tom Scott & The L.A Express/Tom Cat/New York Conne

This two disc CD reissue offers up three 1970's albums from respected US Sax player/ band-leader Tom Scott. The tone/vibe through out each of three albums is very much approachable, often groovy, and memorable Jazz fusion. And each album gets a new 2014 digital remastering.


Preterite - Pillar of Winds

2011 brought us the debut from Preterite, the Montreal based collaboration of Genevieve Beaulieu (of Menance Ruine) and multi-instrumentalist James Hamilton (Colum, Annihilist and Nebris). So by now they've already released a newer album (2013's From The Wells) but for right now we're interested in what their debut had to say.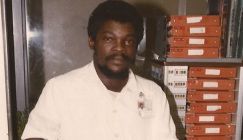 Medico Doktor Vibes - Liter Thru ...
This is a re-issue of a private pressing from 1979, in a digipak with very simple artwork: track titles, a picture-postcard front cover and a photo of a doct...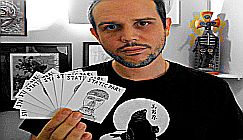 Julien Skrobek - Artful Static
Frenchman Julien Skrobek is one of the more interesting & thought-provoking figures to appear from the European HNW scene. Firstly the sound of his many ...