Painkiller - Execution Ground

Painkiller (John Zorn, Bill Laswell and Mick Harris) is somewhat of a legendary outfit among John Zorn fans and those who enjoy extremely aggressive free jazz. While I can't say I ever really feel like listening to it, I have respect for the ferocity of their initial 'jazzcore' EPs, "Guts of a Virgin" and "Buried Secrets". Across the rest of their career, however, my opinion diverges from many, as I find Zorn's blatant, snarky aggression to be increasingly at odds with Laswell's relaxed new age and dub aesthetic.


Swans - The Glowing Man

The Glowing Man is the third and seemingly last album from the present line-up of the Swans. Just like the two previous albums, 2012's The Seer, and 2014's To Be Kind, it's another double CD affair. And once again it features mostly very lengthy tracks, that are taut/ tensioned in their repetitive sound. Also their is often quite amassed orchestrated sound to proceedings; which blends together elements of noise rock, apocalyptic rock, & post-rock.


Venetian Snares - Traditional Synthesizer Music

Aaron Funk is something of a veteran of front line electronic music by now. His most well known project Venetian Snares has continued to put out a steady stream of quality releases ever since the high watermark of critical acclaim reached in 2005 with Rossz Csillag Alatt Született. That record's heady mix of hyper-speed jungle rhythms and cut-up classical music has only occasionally been re-visited since, mostly successfully on My Downfall from 2007. As well as with his numerous other monikers Funk's recent output with Venetian Snares has diversified considerably, notably on Cubist Reggae from 2011, Fool the Detector from the following year which saw Funk introduce his own voice into the Snares sound and 2014's mammoth My Love is a Bulldozer which revealed some of his most complex and ambitious arrangements to date. Now he's taking his signature programming skills in another direction by producing an album made entirely from one modular synth.




Steve Khan - Eyewitness/Modern Times/ Casa Loco

This double CD set brings together three early 1980's albums from respected US jazz/ jazz fusion guitarist Steve Khan. We have 1980's Eyewitness, 1982's Modern Times(which is a live album), and 1983's Casa Loco- all three albums see him joined by bass player Anthony Jackson, drummer Steve Jordan & percussionist Manolo Badrena. And mostly the set offers up fairly successful blend of jazz fusion, world music rhythms, and precise/ highly accomplished musicianship.


Gesis - i

Well, here's a tape that comes via two excellent wall artists: Julien Skrobek and Greg Gorlen. Both are known for the individual paths they've cut through wall noise, and both continue to explore those paths. Skrobek's Gesis guise provides the sounds here, whist Gorlen brings the distinctive artwork associated with his label - though the linocut which adorns the card tape sleeve is actually the excellent work of Emily Huston. The cassette has two tracks, one on each side, and both a mere ten minutes in length; both pieces are exemplary HNW.


Steve Roach - Shadow of Time

Veteran ambient composer Steve Roach is a longtime personal favorite of mine, and I've drifted off to sleep to his sound countless times. He has continued to create vast quantities of music even into his old age, at times producing gripping works of astonishing, undeniable genius, such as last year's Berlin School homage, "Skeleton Keys", a complex mesh of interlocking shifting analog synth arpeggiations. The newest album "Shadow of Time" forsakes percolating scalar blips in favor of fluidity, lush chords and long tones, employing a sound palette of smoothed over synthetic strings, brass chorales and round waves.


Robert Crouch - A Gradual Accumulation of Ideas Becomes Truth

Here's another CD from the Line label, presented in its customary, smart style: a card wallet with a photo on the front, and album details and a short text on the back. Crouch presents us with five tracks, the first nearly reaching nine minutes, the others all past ten; all of them are cut from the same cloth: concentrated, detailed modular synth explorations that are - above all else - very focussed. There is none of the chaotic 'bleep and poot' that can often come with this territory, instead, Crouch pursues slow, steady transformations.


Necronautical - The Endurance At Night

The Endurance At Night is the second full-length release from this four piece band from north-western England. And it offers up a often speedy, memorable & at times quite creative selection of symphonic black metal craft.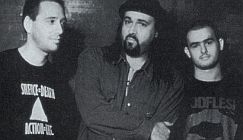 Painkiller - Execution Ground
Painkiller (John Zorn, Bill Laswell and Mick Harris) is somewhat of a legendary outfit among John Zorn fans and those who enjoy extremely aggressive free jaz...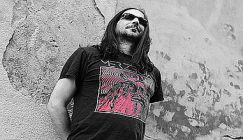 Chier - Walls Of The Noise Cabaret
Chier is one of the most prolific, yet creative projects to appear from with-in the European walled noise scene in quite sometime. In it's just over years ex...