Otavan Veret - Otavan Veret

If 2014 is proving to be anything it's going to be known as the year of releases. Ever since January 1st, it's been an avalanche of not only new releases but debut releases too. Add to the list Otavan Veret with their self titled album. The band, consisting of Kaarna (of Tervahäät and Slaves Mask) and Kivelä (also of Tervahäät,), come from the mystical magical land of Finland. Their self titled debut is a conceptual piece dealing with the journey into the vastness of the universe. Sectioned into 3 pieces (aptly titled I, II and III) each piece envelopes the listener on a far away expedition.


Cosmic Noise Waves / Ataraxy - Valles Marineris

This 3inch CDR box set offers up three slices of mars themed walled noise from these two German projects. I guess you could say this is some what of a sequel to last years Martian Impressions( also on Vomit Bucket Productions)…with the pair offering up a track a piece, then a collaborative track- all of which shift between HNW & ANW.


Monuments Are No Good To The Dead - Earth's Hum, Vol. II

Being an Altar of Waste release, "Earth's Hum, Vol. II" comes in a dvd case with smart graphics and art - the usual standard maintained. Though the artwork is perhaps more austere than most AOW albums I've seen, adding an element of science/mysticism to the overall package. Monuments Are No Good To The Dead offer up one long track, thirty-one and a half minutes, of fizzing Harsh Noise Wall textures.




Dead Body Collection - I Praise The Scars On Your Body

I Praise The Scars On Your Body is a C30, which offers up two prime 'n' brutal slabs of walled noise from this highly prolific Serbian based project. The release appears on Canadian Noir Sur Noir – a Harsh Noise, HNW, Power Electronics label, and the release comes in a great pro looking & grimly arty sleeve that features black in on black card packaging.


Steve Roach - Structures From Silence-30th Anniversary 3CD Edit

Originally released in 1984, Structures From Silence was the third album from US ambient legend Steve Roach. The album is often considered oneof Roach's most influential, respected and celebrated albums- it conists of three lengthy tracks that are built around simplistic interlocking textural synth patterns, which are both soothing, melodic & atmospheric.


Serpentine Path - Emanations

NYC's Serpentine Path is, as Relapse Records calls them, a "doom super group." Consisting of members of Electric Wizard, Unearthly Trance, and Ramesses, their claim to the title is definitely warranted. However, output trumps pedigree, so does Serpentine Path have the chops to remain "super?"


Null (Kazuyuki Kishino) - Extropy Zero 1

Legendary Japanoise musician Kazuyuki Kishino presents Extropy Zero 1, a full length CD, under his Null moniker. Released on his own imprint Nux Organization, the Extropy series is designed to showcase Kishino's progress in both the studio and live performance. The material on this release was created between 2009 and 2010 in Kishino's home studio in Japan (called "Prima Natura") and then performed and recorded live in Hamburg, Germany.


Blood of Kingu - Dark Star on the Right Horn of the Crescent Moon

I guess you could call Blood of Kingu a supergroup of sorts. Except instead of the members coming from various other bands they basically all come from Drudkh. We have Roman Saenko pulling guitar and vocal duties, Krechet on bass, Thurios on guitar, and Vlad playing keys. The only member of Blood of Kingu to come from outside of Drudkh is drummer Yuriy. Dark Star on the Right Horn of the Crescent Moon is the band's third opus, released just a couple weeks ago.


Charles Bobuck - The Residents Presents: Codgers On The Moon

Codgers On The Moon is a collection of mainly up-beat, moody, and ethnic tinged electro instrumental pieces from one of the main minds behind The Residents. I guess if you were to compare this to anything in the Residents forty year catalogue, it would be their soundtrack or PC game soundtrack work, which they've released on & off over the last twenty or so years….so really this is not a new/ full Residents albums, but more of a sonic side thought.


Bly de Blyant - Hindsight Bias

Bly de Blyant is a jazzy psychedelic math rock trio from Norway, whose first album "ABC" on Hubro I gave a mildly positive review, thinking them incredibly talented but unfocused. With their new album "Hindsight Bias", also on Hubro, they correct many of the issues I had with them on their first recording, and deliver a stunning piece of work.




Albert Ayler - The Albert Ayler Story

This lengthy, rigorous compilation is a digital only release, arriving accompanied with a short pdf of liner notes. Its also a really interesting concept for a release, blending interview extracts from pertinent persons with passages of music. I've seen this kind of thing before, but often on cd; whereas it seems to me that the mp3 route is perfect for this idea: you can arrange files/playlists to just listen to the music tracks (for example), given that you might want to skip the interview tracks over time. The release, as it says in the title, tells the story of Albert Ayler; a key figure in free jazz, and arguably the most "out there" of the major players. If you're unaware of Ayler's work, this compilation is made for you. Personally, I sit in an awkward limbo, where I've heard a few recordings but can't pretend to any great knowledge or even appreciation of the man; so listening to this has been an education as well as a spur to further listening.







Otavan Veret - Otavan Veret
If 2014 is proving to be anything it's going to be known as the year of releases. Ever since January 1st, it's been an avalanche of not only new releas...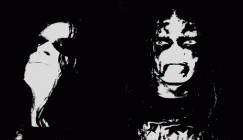 Propast - Unholy Serbian Darkness
I've taken a huge interest in Propast since I discovered Věstnik Preispodnji, the band's debut EP, at the beginning of this year. From the majestic, hat...