Heavy Metal Vomit Party - Long Cold Winter Of Fire And Ice And Cliches But L

Heavy Metal Vomit Party take classic 1980ís hair/glam metal fare, and convert it into a dense, searing, truly overloaded & intense walled noise. For this CDR release, on Minneapolis based Altar of Waste, the project utilizes a tape copy of US glam metal band Cinderellaís 1988 album Long Cold Winter, to create four slices of densely roast & slightly psychedelically seared walled noise.


Ataraxy/Clive Henry - XVII

This split CDR release brings together two euro walled noise acts, and they come in the form of Germanyís Ataraxy, and UK Southampton based Clive Henry. Both parties offer up a thirty minute track- the Ataraxy track is a dense Ďní brutal wall-craft, while Mr Henryís is an equally intense yet more progressive take on wall-making.


Black Meat - L'Homme Ecorchť

Black Meat is an atmospheric yet brutal walled noise project, that brings together two French noise-makers: Julien Skrobek(of Butch Bag, Static Park, Sadistic Fall, Ghost, The Sandman Wears A Mask, ect) & Joseph Szymkowiak( of Black Matter Phantasm & Uv Ursa Spr). L'Homme Ecorchť, is seemingly the projects first release, and it comes in a c40 cassette edition of 20 copies, and a digital download from the labels site. Iím reviewing the cassette version of the release.


Beyond Creation - Earthborn Evolution

Beyond Creation are part of a crop of classically informed technical death metal bands that I've noticed emerging in the last few years, sounding most similar perhaps to Obscura (the band, not the Gorguts album). The emphasis of their music is on tasteful and musical use of technicality, allowing intelligent theory based passages and melodic jazz fusion style guitar playing to blend comfortably with more typical tremolo and pinch harmonic dominated death metal riffing styles. This is their second album, "Earthborn Evolution".




TER - Fingerprints

T.E.R.'s "Fingerprints" is a back-to-basics album of electronic ambient/downtempo, similar in style and mood to the output of the Fax label in the early 90's, or to the ever popular Biosphere. The songs are minimalist constructions of interlocking melodic loops, softly understated beats and circling murmurs of synth. According to discogs, it's the group's first release.


Christina Kubisch & Eckehard Guther - Mosaique Mosaic

This cd, from Gruenrekorder, is presented to their usual smart standards; with a full colour digipak and booklet. The album contains thirteen tracks, recorded in Cameroon by Kubisch and Guther; all of which are field recordings, unprocessed but sometimes collaged.


Howard Stelzer - Brayton Point

The Dokura imprint presents Brayton Point by long-running noise artist Howard Stelzer. Available on CD from the label or digitally (through Stelzer direct), Brayton Point represents Stelzerís first solo album since 2008. Despite being active since the mid-90ís, my experience with Stelzerís output is minut at best. Heís one of those artists Iíve had on a list to check out for some time, but Iíve never quite got around to listening to his recordings in earnest. So when I saw this album in my review queue, I was quite eager to give it a spin.


Dire Omen - Wresting the Revelation of Futility

After releasing two demos and an EP, Edmonton's Dire Omen has teamed up with Dark Descent Records to release their debut full length, Wresting the Revelation of Futility. Mixing the frenzy of death metal with the dense atmospherics of black metal, Dire Omen create a fast, brutal, unrelenting slab of extreme metal. Though not overly long, they manage to get their point across, show off their chops, and create a pretty solid piece of metal.


Laster - De verste verte is hier

I didnít catch Lasterís demo when it was released back in 2012, so the bandís first full-length is my first glimpse at what this Netherlands based project has to offer. De verste verte is hier was released in November on CD, tape, and vinyl, as well as being available for ďpay what you wantĒ on Bandcamp. Iíve spent the past few days giving this some play time and while itís not necessarily an album of the year contender, itís a damn fine piece of atmospheric black metal.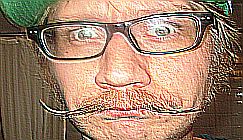 Heavy Metal Vomit Party - Long Co...
Heavy Metal Vomit Party take classic 1980ís hair/glam metal fare, and convert it into a dense, searing, truly overloaded & intense walled noise. For...




Best Of 2014 - Best Of 2014
2014 has been another excellent year for music & sound in all of itís many genres. Below youíll find a list of releases that really meant something to ou...