Tim Korg - The Boogeyman(OST)

Here we have the 2014 reissue of the synth based soundtrack for The Boogey Man- a 1980 horror film that blended together elements of slasher & supernatural horror, to create a often muddled though no-less entertaining B-movie.


Elephant9 & Reine Fiske - Silver Mountain

Elephant9 is a Norweigen instrumental progressive rock band formed in 2006, who have 5 albums as of now, their newest a collaboration with fellow Norwegian Reine Friske titled "Silver Mountain". "Silver Mountain" is a massive and ambitious project containing both sections of dense complexity and tranced out improvisation.




George Crumb - George Crumb Edition Vol 1

Here we have the first volume of George Crumb works from Bridge Records. Crumb is a highly respected & versatile American avant-grade composer, who has been working since the late 1940ís, and today is one of the most played modern composer. This compilation release comes from 1991, and features three pieces that nicely highlights the scope, creativity, often inventive sonic flare of Crumb.


David Michael & Slavek Kwi - MMABOLELA

After weeks of digesting wall noise and sounds residing on the harsher side of the experimental spectrum, I was due for a respite. And what better way to cleanse the palette than to escape into the naked sounds of the natural world as provided by Gruenrekorder and friends. The German-based field recording label (arguably, one of the most prolific in the field recording arena) teams up with Tentacles of Perception Recordings to present MMABOLELA, a 2 x CD by David Michael and Slavek Kwi (Artificial Memory Trace).


Tobias Preisig & Stefan Rusconi - Levitation

Hereís a professionally printed and pressed CD, from two unknown names to me: Tobias Preisig, and Stefan Rusconi. Their depiction on the front cover, summarises much that you need to know: Rusconi sits at a church organ, Preisig saws away on a violin, and in the background, an intricate stained glass window. The album was recorded in a church in Cully, Switzerland, in 2014, and features nine tracks. These vary from a long, near-fifteen minutes, to a short one and a half minutes, and would appear to be overwhelmingly improvised. Pleasingly, the album covers quite a lot of ground - though some parts are more engaging than others - and is certainly not a collection of dry, difficult improv


Defiled - Towards Inevitable Ruin

Japanese death merchants, Defiled, are back again on Season of Mist, this time, with their fifth release, Towards Inevitable Ruin. Taking the form of twelve short bursts of pounding death fury, this tight four piece uses machine gun drums and quick, effective, compact riffs to bring their art forth. Five years since 2011's acclaimed In Crisis, Defiled offer up a manic slice of death metal that is sure to please fans waiting for their next bit of Tokyo terror.


Satans Blade - Satans Blade( DVD + Blu Ray)

Here from Arrow video we have a DVD/ Blu-ray reissue of a long out of print supernatural tinged slasher with a snowy setting from 1984. Satan's Blade is very much a low budget regional affair from the USA, featuring an cast of (still) unknowns, and a one time director.


Shurayuki-hime - Swankiss

Hereís another release from Lurker Bias Neon Wall series, and this time around we have two tracks from Newcastle Upon Tyne based HNW act Shurayuki-hime. The C32 release came in an edition of ten copies, and featured neon pink sleeve that takes in a photo of a young oriental women in granny glasses.


Cory Strand - Void Immersion

Void Immersion is Cory Strandís addition to the Lurker Bias Neon Wall series, and it sees him offering-up three examples of wall-noise/drone blends. Mr Strand should be well known to fans of either the wall noise scene, or the experimental noise/drone underground- for his prolific output( under his own name, or under project banners such as Lethe, Fantome De Sang, Dejection, etc). Or for his highly respected HNW and dark ambient/drone label label Altar Of Waste, which has released around just over 400 releases in itís four year existence.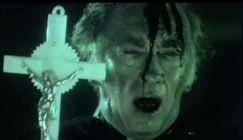 Tim Korg - The Boogeyman(OST)
Here we have the 2014 reissue of the synth based soundtrack for The Boogey Man- a 1980 horror film that blended together elements of slasher ...




Nash The Slash - The Sonic Dreamw...
Nash The Slash is one of the more unusual, creative, and distinctive artists to appear from within the Canadian music scene in the last twenty or so yea...