Lewis - L'Amour

Crate digging and record collecting have been going on long before the internet became everyone's favorite everything. It did, though, change the way collectors could share their finds with the rest of the community. Blogs, bulletin boards, and other websites allow collectors to spread the joy they get from finding underheard classics or, in the case of Lewis' L'Amour, albums that weren't meant for a mass market. These rare, small batch, private press records are much sought after, and the more obscure, the better. Since no one you know has ever heard them or talked about them, these records have a more personal feel to them, like they were made expressly for you. This is especially true with Light In the Attic's latest re-release, Lewis - L'Amour.


Rauhnacht - Urzeitgeist

Rauhnact (well Stefan Traunmüller to be exact as it is his one man band) returns with Urzeitgeist, their second full length. Traunmüller is no stranger to black metal as he is also a member of Wallachia and Golden Dawn. Rauhnacht, for the uninitiated, titles their music as Alpine black metal; which is a combination of early Norwegian Black Metal and the alpine philosophy, traditions and folklore. All lyrics are in German (Google translator was stumped by most of them).


Sebastiane Hegarty - Four Walks Around a Year: Spring

Gruenrekorder imprint presents Four Walks Around a Year: Spring by british artist, writer, and lecturer Sebastiane Hegarty.


Steinebach - Derotation

Steinebach (alias of Martin Steinebach) released this CDr of crackling tape loops and mangled analog static on Sincope in 2013.


The Deathtrip - Deep Drone Master

I'm going to come out and say it – there isn't much good about The Deathtrip's debut album. From the strange goth album cover to the atrocious vocals to the terrible pacing, the album is one mistake after another. This is apparent from the onset of the intro, where Aldrahn and co thought that didgeridoo plus chickens clucking would be a good way to kick off an album. And it really doesn't get much better than that.


Shambala Networks - The Last Winter

Befitting its title, this epic double disk ambient release, "The Last Winter" is empty, cold and expansive, always receding into silence. Each of its 12 glacial movements stretches between 3 and 15 minutes. Shambala Networks apparently has an extensive discography including more than 15 digital releases, which I've been unaware of until now.


Krokofant - Krokofant

Rune Grammofon is a good label to peruse, if your ears like the noisier end of jazz and improv and "Krokofant" is another gem in that territory. The line-up is a "simple" guitar/drums/sax trio, fleshed out with some judiciously used guitar loops and full of fire. "Loops" and "fire" perhaps sum up the most powerful parts of the album, with the trio locking in on twisting, angular riffs and pummelling them like a muscular, noisy, stripped-down King Crimson. These monolithic passages are interspersed with more exploratory, soundy sections, allowing the listener (and Krokofant, I imagine) time to catch their breath before the next onslaught. So, some kind of prog-jazz-improv is the order of the day; delivered without pretension or preciousness.


Vomir - Que le ressac de ta jouissance n'ait lieu qu'au re

Que le ressac de ta jouissance n'ait lieu qu'au reflux de la douleur is a 3inch CDR release from the infamous master of French walled noise Vomir. The release is part of Corpse-Grained Series, which is a new HNW/Static noise label from the highly prolific Paris based walled noise/harsh noise maker Julien Skrobek( of Butch Bag, Static Park, Sadistic Fall, Flesh Clocks,The Killer Came From The Bronx, Ghost, The Sandman Wears A Mask, Ruine).


Portrait Of A Slasher - Friday The 13th

Portrait Of A Slasher is one of the more recent projects of long-term West Virginia based HNW maker J. Cadle (Foul, ….Massacre, & Oasis Of Fear). All of this projects releases are themed around classic & cult horror movies, and this CDR release is the first physical release from the project after a few download only albums.


Death In June - The Guilty Have No Pride

Here we have a new vinyl reissue of Death In June's first 1983 album The Guilty Have No Pride. This version features a new remastering by Douglas P, and comes in either a 200 gram black or 150 gram opaque white vinyl edition- both versions come in a strictly ltd edition of 500 copies. I'm reviewing the black vinyl version




Klara Lewis - Ett

Swedish composer Klara Lewis' debut release comes to us from Editions Mego, a label well known for putting out intelligent electronic music. Ett is no exception and nicely compliments their catalog. Field recordings are reconfigured, looped, and mixed with new textures to create subtle soundscapes, catchy rhythms, and movie soundtrack styled composition.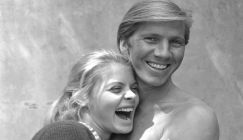 Lewis - L'Amour
Crate digging and record collecting have been going on long before the internet became everyone's favorite everything. It did, though, change the way collect...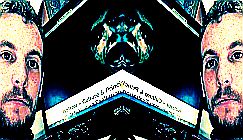 Ryne Barber - Hearse Fetish,Tomb...
Ryne Barber is Maryland based noise maker who creates an appealing & often horror focused mixture of industrlized HNW, Hars...