Kruzenshtern i Parohod - Songs [Auris Media - 2005]If the news were to believe Israel would have nothing more than religious fundamentalists and war. Of course this is not the whole truth, and a band like Igor Krutogolov's Kruzenshtern i Parohod illustrates that. Their energetic mix of Jewish music and western influences ranging from jazz to mathcore proves that there's also people living a more ordinary life, yet making extraordinary music. \r\nIn a way the group has their own take on a course that John Zorn took with his Masada projects, by that showing that there's more to Jewish/Israeli music than klezmer. On Songs you'll find a version of Melohalot written by the mastermind behind 'Radical Jewish Music' and Kruzenshtern i Parohod takes it home, so to speak. It's good to see music like this not being exclusive to Zorn's Tzadik imprint, although it would fit perfectly: the clarinetsound of Igor is not unlike that of Chris Speed (Pachora, Alasnoaxis and many more), who appears on various projects there.\r\n\r\n\r\nBasically, the music on Songs is a rougher version, with loud outbursts and lots of twists and turns, of the Jewish tradition. The bass and drums provide the power while the clarinet gads about surprisingly elegant. It provides an interesting contrast between that gentle breeze of the woodwind over the stormy complexity of the rhythmsection. Although many styles are taken up in the whirlwind the result is dynamic but consistent. Plenty of improvised parts remain firmly grounded by composed parts. The thirteen songs are adventurous and coherent enough to keep you on your toes, also on CD, even though this seems very much music to be experienced live.\r\n\r\n\r\nMore recent than Songs is a split release with French band Vialka. Their music roughly sounds like Edith Piaff playing modern 'Rock In Opposition' with some African flavours spicing things up. It's quite amazing to realise that this is a duo. Seemingly limited with only drums, vocals and baritone guitar they manage to fill everything up so well that the endresult is rich enough to keep your attention. The second part of the album is taken by the Israeli klezcore group who continue on the path set out on Songs, but now with an added accordion.\r\n\r\n\r\nTwo bands with unconventional lineups and one of them coming from uncommon territory: altogether quite special to begin with. Luckily the music lives up to that and although I personally have a mild preference for Kruzenshtern i Parohod both are very much of interest of those keeping their ears open for the output of the Tzadik (Masada, Cracow Klezmer Band, Rashanim) and Cuneiform (Ahleuchatistas, Zaar, Hamster Theatre) imprints.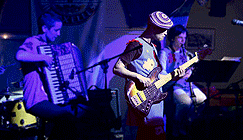 Kruzenshtern i Parohod - Songs
If the news were to believe Israel would have nothing more than religious fundamentalists and war. Of course this is not the whole truth, and a band like Igo...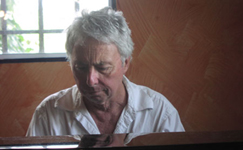 Harold Budd - Existential Beauty:...
Today the lineage between mid 20th century minimalism and what passes now as ambient music is mostly obscured. But lying beneath the sedimented layers of ele...